Countdown till Bloomin Bands 2022!!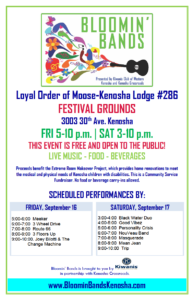 The Kiwanis Club of Western Kenosha – in partnership with Cross Roads of Kenosha – will present Bloomin' Bands on September 16-17, 2022 at the Kenosha Moose – Lodge #286 FESTIVAL GROUNDS (3003 30th Avenue, Kenosha). This event is OPEN TO THE PUBLIC!! All proceeds from this community event go to The Kiwanis Club of Western Kenosha charities. Bloomin' Bands features live music by Kenosha area bands and musicians. All of the musicians and staff are volunteering their time and talents to this cause and all of the proceeds will be donated back into our local community.
The Kiwanis Club of Western Kenosha is a service and community organization focusing on serving children and young adults. Each year, the Club provides thousands of dollars to support academic and music awards for Kenosha area school children. It sponsors the Bradford High School Key Club, contributes to the support of the Boy and Girls Club, offers scholarships to deserving high school students and supports many other community service projects. Cross Roads of Kenosha provides an extreme makeover of a room(s) of children with disabilities within our community. These renovations transform the child's space to meet medical and physical needs while greatly enhancing their quality of life at home.